Pub: "On a Day Tammy had not Eaten Enough Yellow" (No Tokens Journal)
The subject once encountered people who believed that a good diet was dependent upon consuming a wide variety of colors. And that the appearance of certain foods signaled the part of the body they were meant to strengthen (for example, the cross-section of a carrot looks like an iris, thus carrots are good for the eyes). Excerpt: "An insistence was on the horizon and insistences meant someone's will was going to get curb-stomped by Tammy's will. Their will was going to get their face pummeled by Tammy's will. Their will's privates will be punted. This kind of behavior — this weaponizing of will — was typical of Tammy not having enough yellow." Get it
here
soon.
---
Pub: "Ivory Tower" (New England Review)
A story about an art professor and the college president's administrative setting out on a mission to assess a sculpture called "The Ivory Tower" for possible aquisition by the college. Things go badly, absurdly. The subject has always claimed to have a lifelong desire to eat artworks. So does the character in this story. Excerpt: "He wanted to internalize the colors and shapes and the harmony they presented, but through the mouth not the eyes, to absorb it digestively. He had tried to explain it to Ali once, likening it to an ASMR-like reaction, or maybe something connected to synesthesia. This was the explanation he offered after his wife caught him fiercely gnawing on a Rubic's Cube in his study — something he had secretly done to relieve stress since college, when he noted that the popular puzzle was a distinctly De Stijl object." Get it
here
soon.
---
Pub: "Weeper" (Subtropics)
The subject wrote a story about a man trying to cry. It's not a miserable as it sounds. The subject is honored that editor David Leavitt saw something there in the submitted pages and worked with him to get it to a good place. Excerpt: "Despite not even a quiver of the chin so far, I thought I was getting somewhere. I just needed solitude and time to burrow into the silt of my heart. More Adagio — supposedly one of the saddest pieces of music ever composed. A trip to the beach could trigger a reset and then I'd have to start over." Get it
here
soon.
---
Pub: "The White Woman" a novel excerpt (Fiction International)
The subject has a few novels-in-progress. This is a chapter from a novel-to-be called CELESTE. The excerpt will appear in Fiction International's upcoming "Algorithm" issue, which will also feature this image that the subject created and named "B0t Night". From the novel: "The peak, with its snow-streaked sides and broad cone, wore a rakish plume of roiling smoke, a mushroom cloud accessory. It had been active lately, threatening vengeful annihilation at last, in fulfillment of the prophecies. William did not fear an eruption now. His biography had already accommodated the end of democracy in America and, he believed, there was no more room for such significant historical footnotes at the bottom of pages crowded with unexceptional episodes." This issue will be available in May, 2020. Get it
here
.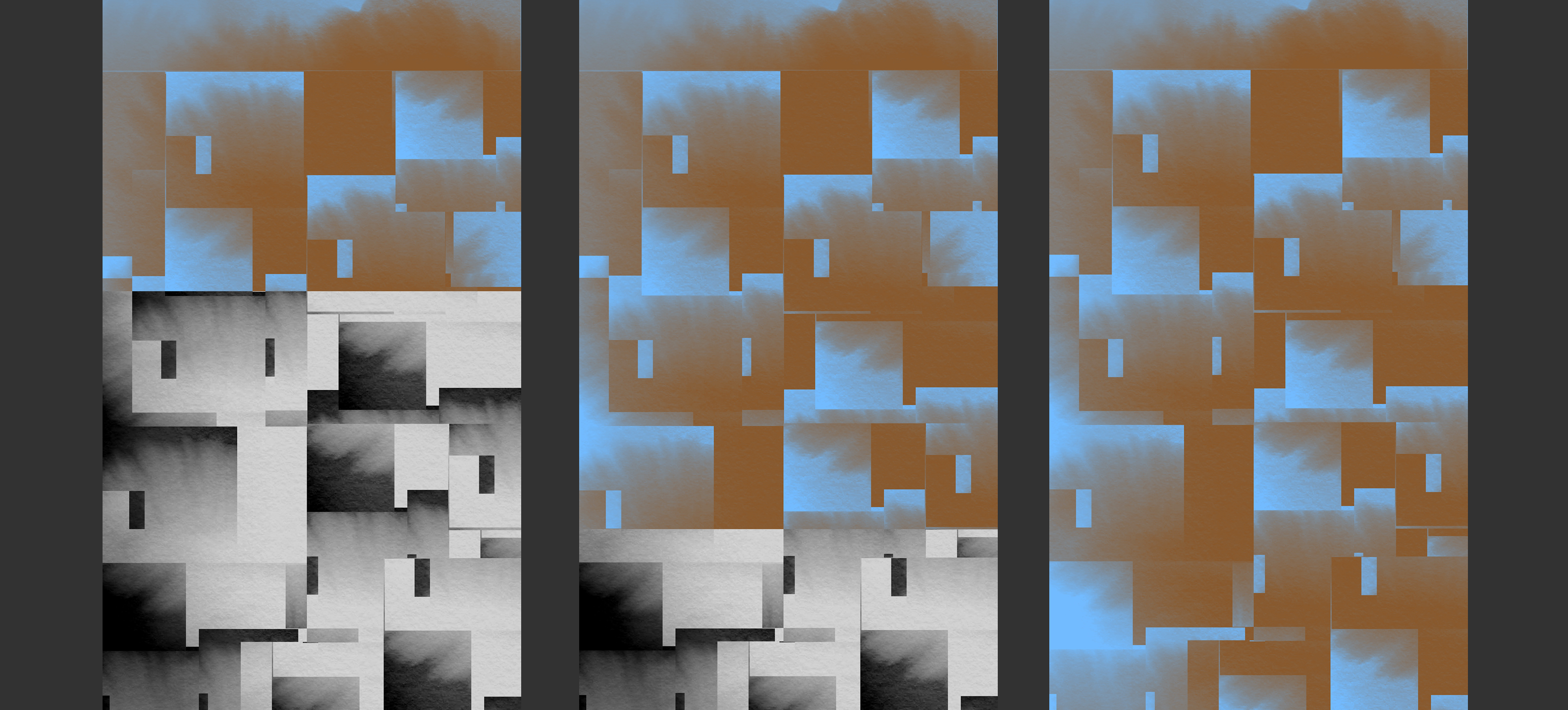 ---
Pub: At War with the Sellouts (Santa Monica Review)
The subject wrote the line "At war with the sellouts" a decade ago and only recently found it in his files. He used it as a prompt to write this story. The story has also inspired an illustration project. The image below, called "GOLD," is drawn from these lines in the story: "The sellouts had their own schemes. They were always trying to trap us. The bait they chose made us wonder what they knew about us. They were calibrating, toggling between what they believed were our needs and wants. Gold never worked because fuck the rich. Sometimes it was flowers, hanging high on lines over concealed pits. Sometimes it was masks made in their own likeness. Sometimes it was fresh fish. We made counter-traps with ukuleles and insulated quarter-inch cables." Get it
here
.
---
Pub: Our Adams (Ninth Letter)
A story about two families who have the same boy was published in Ninth Letter's Fall/Winter 2019/20 issue. Excerpt: "At first there was much confusion. We, my wife, our boy and I, arrived at the Blakees' with a bag of ice, a six-pack of hard cider, and a Pyrex casserole dish filled with marinated chicken breasts. When Rita—who is Ray Blakee's wife—answered the door, she looked down at our boy and said, "Adam? What are you doing out here?" Get it
here
.
---
Pub: Doorway to Darkness (Ploughshares)
New story was selected by Ladette Randolf and Viet Thanh Nguyen for the Summer 2019 issue. Excerpt: "When I finally returned to Southern California, I expected to find the locals in the grips of apocalyptic fear, arming themselves and venturing out from fortified homes only for the most necessary provisions. The area had recently suffered a brutal terrorist attack, during which over a dozen people were gunned down while attending a retirement party. The killers were themselves killed by an army of black-clad cops on a quiet suburban street." Acquire it
here
.
---
Sabbatical: Books Read
Throughout his sabbatical, the subject was observed reading various books, sometimes on an iPad Pro; other times, actual books. These instances of reading occurred in a variety of setttings, including at home (mostly in bed), in cars, planes, busses, subway trains, coffee shops, bars, doctors' offices, the Writers Room of Boston, while sitting on a wall at a beach, while on an elliptical machine, in the waiting area of a dressing room of various women's clothing stores, while waiting in a double-parked vehicle on Broadway in South Boston. Here is a list of the books and some field notes of behaviors, gestures or utterances that possibly indicate the subject's assessment/attitude about the material. It should be noted that the subject started three times as many books as those listed here. Though the subject is a well-known "book quitter," it appears that he managed to finish these titles.
THE FERAL DETECTIVE by Jonathan Lethem A post by the subject on Facebook included a picture of the book sitting on a bar in Salem with a frose and the words: "Damn you, Jonathan Lethem."
DODGE CITY by Tom Clavin Subject was overheard saying into phone to unknown caller: "These wild west lawmen were the cops and the robbers at the same time!" Adding: "They sure got around." Clearly liked it, but not as much as the Black Elk book from last summer.
THE THIRD HOTEL by Laura van den Berg Uttered to no one upon completing the book: "Whoa. She has gone to a new level with this one." When asked to clarify by nearby hobo, subject refused to elaborate, saying, "Read it, then we'll talk." Hobo claimed to read only Delillo, asserting that Delillo is "America's greatest living author." Subject asked hobo if he was Delillo.
THERE THERE by Tommy Orange Many times the subject was wrongly accussed of distracting himself with social media, but was actually reading this book on his iPad. Upon completing it and seeing Sorry To Bother You, announced that "something big is happening in Oakland."
THRILL ME by Benjamin Percy When someone suggested the subject read it, he said: "I already read it!" Seemed defensive.
WEST by Carys Davies Told family member, "It's like a fever dream you might have after watching Little House on the Prairie and Bone Tomahawk."
BUNNY by Mona Awad In a note he left for the author, he proclaimed the book to be "the best campus novel ever". He often says he wants to go back into the world of this book, like it's a place that can be visited, inhabited. Says it's indigo, with greens, pinks and blue. Made website for author using those colors.
TOO FAR FROM HOME by Paul Bowles The subject found this little book in a Denver bookstore and read it on a plane. Told a Dominos Pizza parking lot hobo that "Paul Bowles is Anthony Bourdain's father."
KINGS OF THE YUKON by Adam Weymouth Recommends this book to anyone who will listen to his book ramblings. Can't remember the hierarchy of salmon. Enjoyed discussing it with his father while in Alaska, eating salmon.
CONVENIENCE STORE WOMAN by Sayaka Murata Looked at the cover of this book for long contemplative stretches and often while reading. Repeatedly tells daughter to read it, but never remembers to bring it to her.
DESIGN IS STORYTELLING by Ellen Lupton In email to colleague: "Might assign this as required reading in my Interactive Design class." Yet did not list it as course text book at the time of this post.
THE MARS ROOM by Rachel Cushner Told friend in Bakersfield that the book pairs nicely with the Lethem novel as "a California diptych". Described the author as "badass" and "in another league" to an inquiring stranger at Starbucks. Stranger left without ordering coffee. Subject assumed, with some obvious satisfaction, that stranger was running off to acquire the book, but stranger appeared to merely be fleeing the subject.
CHERRY by Nico Walker Despite the subject's efforts to take a break from what he calls "tough guy" or "scumbag" literature, he indulged, reading this book quickly and clearly savoring its seediness. Seems to enjoy knowing that the author is in jail.
BIG GIANT FLOATING HEAD by Chris Boucher From a note to the author: "What I loved most about it is the spell it casts—how it altered my general sense of the world, the possibilities of our reality, and the language that constructs it."
THE TRANSMIGRATION OF BODIES by Yuri Herrera The subject has read many of this author's titles. They are slim volumes and suit his wavering capacity to focus. Often claims, entirely unpromted, to "love Mexico". Has said about the author, "I want his gig."
THE UNDERGROUND RAILROAD by Colson Whitehead The subject was overheard commenting on this book at a bar in Northhampton, stating: "Definitely deserves all the praise and recognition." But has also confided to a stranger's baby, while waiting in line for ice cream in Cambridge, that he's "not sure what the fabulist element of the literalized underground railroad brought to the narrative. Seemed under-utilized."
TRUE GRIT by Charles Portis The subject read this book in two days but kept it under his pillow for nearly two weeks. When questioned about this, claimed that the author is an American treasure and genius and that maybe, by resting his head on the book, some of the genius might travel into his own mind through "the portal of dreams".
VERNON DOWNS by Jaime Clark The subject appears to be collaborating with the author on some kind of project stemming from this novel. Read the book in La Jolla Airbnb and later told random woman in dispute over parking space: "I have some seriously talented friends."
INSURRECTO by Gina Apostol Tweeted: "Fortunate to be in Amherst the night @GinaApostol gave a reading! Was dazzled by her boldness and one sublimely profane passage in particular. Takeaways: She is greatness and syphilis is to be avoided."
THE HOUSE OF BROKEN ANGELS by Luis Urrea (in progress)
WE WERE EIGHT YEARS IN POWER by Ta-Nehisi Coates (in progress)


ON NIGHTSTAND (UP NEXT)
LOOKER by Laura Sims
DEAR CYBORGS by Eugene Lim
THE FRIEND by Sigrid Nunez
---
Story: Headlock (September 10, 2018)
The subject's story "Headlock", which originally appeared in the pages of The St. Petersburg Review has been posted on this site for your reading enjoyment. The story is the subject's attempt to confront his fear of being beheaded and includes "one of the sexiest insurgent/hostage role play scenes in English letters," according to someone who read it.
[Read it]
.
---
Video: Newtonville Books 20th Anniversary (August 31, 2018)
The subject and his partner, writer Mona Awad, made a minute-long video in honor of Newtonville Books 20th Anniversary. The legendary bookstore will celebrating on September 29th and all are encouraged to stop by the store. The subject makes many claims but being a good actor is not one of them. You can watch it
here
.
---
Injury: Right Foot (June 3, 2018)
The subject broke a bone in his right foot while walking. The subject was entirely sober, but is possibly too old to be wearing punk creepers. The subject rolled his ankle and claims to have heard a pop, "Like the snap of a dry twig." This happened on the subject's birthday.
---
Radio: Selected Shorts (January 25, 2018)
The subject's PEN/O. Henry Story Prize winning short "Nightblooming" was performed by Josh Charles (The Good Wife, Dead Poet's Society) at the Mark Twain Library Puddn'head Festival in Wilton, Connecticut, in September. It will be heard on the radio on January 25th in a line up that includes work by Meg Wolitzer and Lydia Davis, with Jane Curtain hosting. And it's now available online: [
Listen!
].
---
Pub: "Fear of Drawing" (Denver Quarterly)
The subject has recently had a story published in the Denver Quarterly. The story is called "Fear of Drawing," which is a phobia the subject claims to possess. Excerpt: "The horse came towards me and I held out my hand, which it sniffed. It was an unusually shaggy horse, its surface dull with unkempt fur. I slowly tried to reach out and pet its face, but it did a remarkable job of staying just out of reach. I kept trying, wondering if I could draw this horse—the bulging muscle along the jaw, the long skull and omniscient eyes." [
Read it.
]
---
Reading: Reactions (November 5)
The subject has been invited to read his new short story "Blood, Not Air" at a student-curated event called REACTIONS. The subject has indicated that he will create some accompanying visuals, but no activity along these lines of production has been observed. Poetry "reacting" to the current state of world affairs will also be read by individuals who are not part of this study. Additionally songs will be performed (including three protest songs by Lisa Bastoni) and artworks will be on display. The event will occur at Lasell College's Wedeman Gallery, 4:30, November 5. More details will be reported as they are observed.
---
Gig: Lisa Bastoni (October 26)
The subject will occasionally play drums in public, often in support of singer/songwriter Lisa Bastoni. An upcoming performance, or "gig," has been scheduled for October 26 at the Burren in Somerville. Sponsored by WUMB, the performance will be broadcast live on the radio. The subject is visibly troubled by this detail and clearly grappling with pre-regrets. [
Learn more
].
---
Reading: Round Table Reading Series with Annie Hartnett (October 6)
The subject was invited by Post Road Magazine to participate in the Round Table Reading Series at Porter Square Books with Annie Hartnett, author of the novel RABBIT CAKE. The subject read a new short story called "Our Adams" and, with Annie and moderator Chris Boucher (author of GOLDEN DELICIOUS), answered questions from the audience in a sufficiently coherent manner.
---
Radio: Selected Shorts (September 26)
The subject's PEN/O. Henry Story Prize winning short "Nightblooming" was recently chosen for Selected Shorts, the weekly public radio show that features actors of renown reading short stories in front of a live audience. The story was beautifully performed by Josh Charles (The Good Wife, Dead Poet's Society) at the Mark Twain Library Puddn'head Festival in Wilton, Connecticut. Look for its radio debut in early 2018. The subject attended the reading and appeared to be well rested [
Learn more
].
---